In the north of France, close to the village of Beauvais, you will find the beautiful LCA Lake. The lake is about 5.5 hectares in size and is an old gravel pit. The maximum dept of the lake is 5.5 meters. The lake is situated in a calm environment without any busy roads nearby. Perfect for the fisherman who can appreciate a bit of quietness!
LCA Lake has very clear water and some parts contain quite a lot of weed. This gives the water a lot of natural food, which helps the approximately 300 carp grow. Fish up till 23 kilos have been caught at the lake, but we know for sure that there are two fish that are even heavier. These two fish have not been caught yet. All fish on LCA Lake are dark colored and they vary a lot in the way they look. Beside the 300 normal carp in the lake, there is also a nice population of grass carp in the lake to manage the growth of the weed.
With a maximum of five anglers per week, LCA Lake is a great venue where everyone can enjoy his or her style of fishing without getting in each other's way. The lake is a great challenge for fisherman who have some experience in weed fishing. There is an English speaking bailiff present at the venue at all times, to help you with anything you need.
If you are looking for a nice, not too commercial looking venue, this is the place to be!
You can take a shower at the venue and there are numerous natural toilets present. In the peak season, a truck comes by every day where you can purchase water, bread and drinks. The salesman can also bring other groceries at your request.
There is not power present at LCA Lake. Please keep this in mind and bring enough batteries with you.
You are expected to arrive after 11:00 in the morning. This has to do with the fact that the previous anglers have to leave before 10:00 in the morning. This gives us the opportunity to check a few things and make everything in order for you.
It is not possible to book a certain swim. At 12:00 there will be a draw for the swims, unless everyone agrees with the swims between themselves. If you arrive after 12:00, you can pick a swim from the leftovers.
You are allowed to fish with three rods each.
You are required to use a large unhooking mat and a large (minimum of 42″) landing net.
Each fisherman can use one floating swing.
It is not allowed to use tigernuts or any other type of nuts. Crushed nuts are also not allowed.
Only particles that are prepared by us or maize from a can are allowed. If you wish to buy particles from us (maximum of 12 kg per angler per week) please contact us up front.
Boilies and pellets can be used without a limit. Please use your bait with common sense and think about the other anglers at the venue.
Swimming is not allowed.
Braided line is not allowed, only when spodding or when you use a marker rod.
Your mainline should have a minimum breaking strength of 18 lbs (8.2 kg).
Please use a hook size 4 or larger.
Every fisherman should have a carp care kit and use it when they have caught a carp or when the carp has visible wounds.
Please stay close to your fishing rods. If you want to do some grocery shopping or take a walk around the lake, keep your rods out of the water.
You are allowed to use a boat and an electric engine. You are required to wear a life jacket when you are using the boat.
Bait boats are not allowed.
Barbecues are allowed, but open fire is not.
Glass bottles are not allowed with regard to safety. We advise you to use cans or plastic bottles.
Keep your swim clean at all times. This will help to prevent vermin.
Please respect the nature and other fisherman around you and keep your noise levels to a minimum.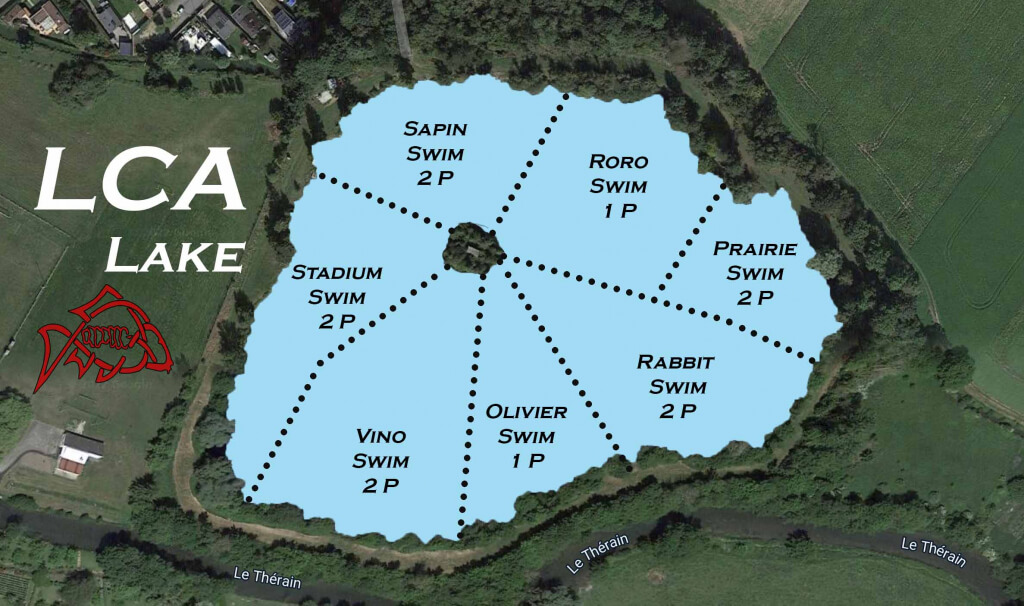 The prices to fish at LCA Lake are as follows: 
€250 per week per angler.
€25 per week for a (non-angling) guest.
Rent for a boat is €40 per week (there is one boat available). It is also allowed to bring your own boat.
Prices for ready made particles:
Maize: €1 per kg
Particlemix: €2 per kg
Please inform us well before your trip if you want to use ready made particles.
For questions or reservations, please contact us via our e-mail address.